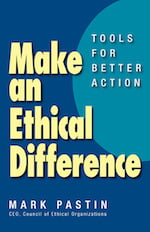 Make an Ethical Difference: Tools for Better Action
PRACTICAL TOOLS TO HELP YOU SEE WHAT'S RIGHT AND DO IT
People are often skeptical that there is anything they can do to raise society's ethical level. Mark Pastin begs to differ. We can make a difference, and we don't need ethics "experts" to tell us what to do. He argues that we all have an innate ethical sense—what he calls an "ethics eye." He offers tools for sharpening the ethics eye so we can see and do the right thing ourselves, particularly in the workplace, where our decisions can affect not just ourselves but coworkers, clients, customers, and even an entire organization.
Seeing what's right is one thing—getting others to agree with you is another. With examples drawn from his decades of experience advising governments, corporations, and NGOs, Pastin shows how to identify competing interests, analyze the facts, understand the viewpoints, measure the benefits of different outcomes, and build consensus. You'll gain confidence in your ethical sense, make better leadership decisions, and take actions that elevate the ethics of the groups and organizations you belong to—and society as a whole.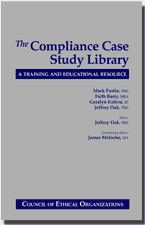 The Compliance Case Study Library: A Training and Educational Resource
The Compliance Case Study Library is a collection of articles and training tools for those charged with healthcare compliance training. The heart of the book is a collection of case studies on every major compliance topic, for any audience, and from every major sector including: healthcare providers, suppliers, health plans, labs, pharmaceuticals, and academic medical centers.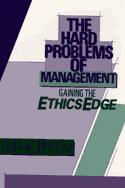 The Hard Problems of Management: Gaining the Ethics Edge
"It is as if some missing ingredient keeps our organizations from working. One of the hardest problems of management is simply finding this missing ingredient. The very persistence of the hard problems suggests something is radically wrong in the dictionary sense of 'radical,' meaning to the very root. My objective is to say what is wrong and more important, to start making it right"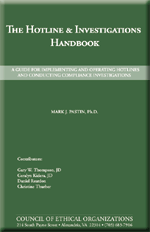 The Hotline & Investigations Handbook: A Guide for Implementing and Operating Hotlines and Conducting Compliance Investigations
Already an invaluable tool, the revised, updated and newly titled Hotline & Compliance Investigation Handbook reflects the additional experience, gained by the Council from working with front line compliance professionals. The new handbook includes expanded narrative treatment of the various regulatory or legislative changes since its original publication that potentially affect hotline operations (e.g., the Sarbanes-Oxley Act, OIG Compliance Guidances, and changes to the Federal Sentencing Guidelines). Finally, the new handbook contains a new foreword by Council President Mark Pastin.
The ethics hotline has been a concern of the Council of Ethical Organizations for over a decade. We assisted in establishing the first ethics hotline. For many years the Council has sponsored The Hotline Course as well as the Conducting Compliance Investigations Course as a clearinghouse for hotline and investigations best practices.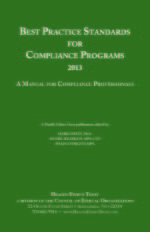 2013 Best Practice Standards for Compliance Programs: A Manual for Compliance Professionals
What we provide in this manual are Best Practice Standards by which compliance programs and their component parts can be judged as not only meeting and exceeding all external requirements, but as equal to or better than the best known compliance program practices.
The target we are aiming at is moving, as we have learned from running the Healthcare Best Compliance Practices Forum over the 15+ years. Practices that were outstanding in 1995 would not even contend for a Best Practice Award now. For this reason, the standards offered here will be updated annually and republished each January.